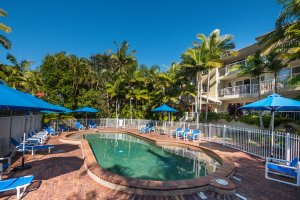 One of the greatest reasons you may want to visit Surfers Paradise is so that you can see and experience the Surfers Paradise Beach up close and personal. And with its three kilometre stretch of pearly white sands from Surfers Paradise to the Pacific Ocean, you'll surely desire to be in this place any time of the day.

At the start of the day, don't you think it's nice to dip in the water right away to shake off sleepiness and to get your day's exercise? But being in a dwelling place can prevent you from doing so immediately because you still have to travel to finally let your feet touch the sands of the beach.

So how about seeking for an accommodation provider that gives you the chance to soak in a pool even in the early morning? Why not book your stay at Surfers Tropique?

Strategically situated between Surfers Paradise and Broadbeach, our Low-rise apartments Broadbeach features an outdoor swimming pool surrounded by the beautiful tropical gardens. It is available to our guests whenever they feel like swimming so you can jump right in if you think you need more sleep, but there are still a lot of attractions you need to visit so you need to rise up early. Let the cold water of our pool wake you up and let your swimming activity be your exercise to get your warmed up for the tons of walks you have to do around the suburb.

We also have a spa which you can use after a long day to ease your weary body, barbecue area with the facilities where you can cook barbecue and eat merrily with your buddies, Wifi connection which is strong throughout the resort to keep you connected to your loved ones, Tour Desk to help you in your trip around the Gold Coast, 24-Hour Check In service if you can't come on time to the resort, and a car parking space to keep your vehicle safe.

Choose from our fully self contained and fully furnished selections: One Bedroom and Two Bedroom Apartments.

Book our accommodation near Surfers Paradise at http://surferstropique.etourism.net.au/.