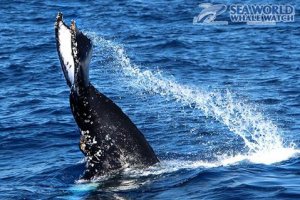 Let Sea World take your breath away! Catch the seasonal whale watching tours aboard the Spirit of Migaloo! Australia's Gold Coast premier whale watching tours with expert Captains and Tour Guides aboard the world's most advanced whale watching vessel Spirit of Migaloo. A full refund is provided if your tour fails to sight a whale between June and October.

Feel like royalty in its spacious, four-level viewing decks, air-conditioned interiors, large tinted windows and first class seating provide a superior level of luxury and comfort. With ultra-quiet low emission engines, toilet waste holding tanks and whale-friendly keel, the Spirit of Migaloo is built with environment safety in mind. Experience an informative yet entertaining cruise with its on-board Whale Theatre that boasts an impressive 3D animation, Real-Time tour map technology and live whale songs. Sea World is just 20 minutes away from the whales, which means you will have plenty more time exploring what the iconic Gold Coast has to offer. If you want to learn more about Sea World's Whale Watching Packages, you may visit http://www.seaworldwhalewatch.com.au.

Meanwhile, if you and your family intend to make the most out of your stay at Surfers Paradise, go ahead and fill your long weekend itinerary. Have access to other local attractions and tourist destinations by booking any of our wide range of accommodation near Surfers Paradise at Surfers Tropique today.

Find a comfortable holiday address with Surfers Tropique. Fall in love with our tranquil living spaces equipped with WiFi access, plus excellent guest amenities that match your discerning lifestyle. We invite you to spend your early mornings taking cool dips in our sparkling swimming pool and spa, hosting laidback barbecue-themed parties at our spacious barbecue facilities, among others. Get expert advice from our tour desk staff and let them efficiently make your travel arrangements and tour reservations a lot more convenient for you and your family.

Checking whale-watching off your list when you visit the Gold Coast. Reserve your preferred rooms by visiting http://surferstropique.etourism.net.au today. Booking has never been this fast and easy!
Image Source : Sea World Whale Watch