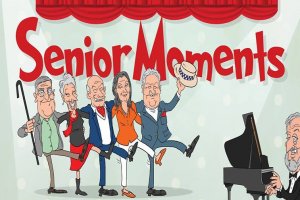 'Senior Moments' is the perfect evening of comedy for couples this Valentine's Day! Coming to the iconic Home of the Arts in Surfers Paradise, Senior Moments delights in the hilarities of being on the senior side, and there won't be a funnier show to catch on the Gold Coast this February.

Comprising of a number of hilarious sketches that highlight all the relatable moments of getting old, Senior Moments is all set to have its audience rolling in their seats from start to finish. This revue performance will star renowned comics John Wood (Blue Heelers, Rafferty's Rules), Benita Collings (Play School) and Max Gillies (The Gillies Report), as well as former Channel 9 Midday maestro Geoff Harvey, and you can be sure they'll deliver a string of stomach-aching laughs one after another!

For those that aren't afraid to admit they're getting older, Senior Moments is a fantastic show that won't disappoint, as well as a fun treat for couples over Valentine's Day! There'll be a number of afternoon and evening performances of Senior Moments from February 27 to March 2, and you can make sure not to miss them at Home of the Arts by booking our accommodation near Surfers Paradise.

Situated just outside of Surfers Paradise, Surfers Tropique offers the perfect break for couples and families this summer with a relaxed location that's just moments away from the beach, live entertainment, and great places to dine! Our fully furnished one and two bedroom apartments provide comfort at an affordable rate, as well as a selection of onsite facilities that include an outdoor swimming pool, spa, barbecue area and more.

Start looking forward to your break in Surfers Paradise - find more information on Surfers Tropique by clicking here.