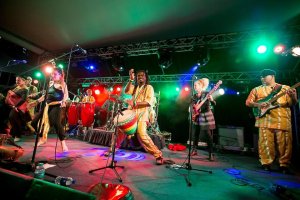 Don't forget to join the festive bandwagon as you drive to this fantastic side of Queensland from 20th to 21st of August 2016. The annual Broadbeach Jazz Festival invites you to party with thousands of festival goers on Broadbeach, where you can visit some really cool street markets and be entertained by talented roving street performers.

Listen to live mainstream jazz at premier outdoor stages and venues like The Oasis, Kurrawa Park, Surf Parade stage, Lola's Restaurant, Niecon Plaza, Victoria Square Fountain, Broadbeach Mall, Oasis Shopping Centre, Surf Parade, and Sofitel.

Keep your eyes and ear peeled for great Aussie acts such as: The New Orleans Marching Band Singers, Queensland Youth Orchestra Big Band, The Living Room, Caxton St Jazz Band, Louie Shelton, Maggie Britton, Kerbside Collection, The Poodle Ladies, Lady in Lights, Nicole Parker Brown and Kevin Briggs, ABC 4 Kids Lah Lah's Big Live Band, Galapagos Duck, Wilbur Wilde's Blowout, George Washingmachine's Gypsy 5, Nicole Parker Brown, The Jason Machado Group, Heidi Hoops, Gemma Giraffe and Ranger, and so much more!

It's bound to be a great Broadbeach Jazz Festival with a family and fringe feel, thanks to our awesome buddies from Broadbeach Alliance. Learn more about the festival by visiting http://www.broadbeachjazz.com.

Now for a place to crash for the weekend ahead, check out Surfers Tropique. Our luxurious yet affordable units offer you a tranquil home that is a just a heartbeat away from all the fun. Get comfortable with our Low-Rise Apartments Broadbeach, complimented by lifestyle-inspired facilities, such as: 24/7 WiFi access, car parking, barbecue area, and an outdoor swimming pool. Plus, you may approach our tour desk staff to get some awesome advice on the best attractions on our wide selection of tours available within the area.

With Broadbeach being one of the busiest places on the Gold Coast, you can look forward to a vibrant array of activities and events inspired by Oz's vibrant arts and cultural scene all year round. Don't forget to drop by award-winning Broadbeach bars for awesome nights out with the best people in the world.

Choose from Surfers Tropique's accomodation deals today by visiting http://surferstropique.etourism.net.au. Booking has never been this fast and easy!
Image Source : Broadbeach Jazz Weekend