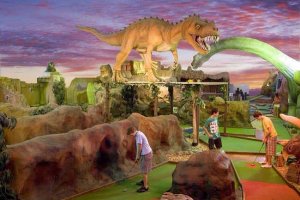 What do you say, you're going to Surfers Paradise on your next holiday? Then congratulations because you just made a fine choice.

Surfers Paradise is located on the Gold Coast, a region dubbed as the Coast with the Most.And with all the superb dining places in Main Beach and Broadbeach, the peaceful and soothing hinterland, and all the attractions in Surfers Paradise, it is undeniable that the region is really blessed with the most.

And if you'll be heading to Surfers Paradise, then the more blessed you are. Called as the 6th Theme Park, you'll be in complete elation and excitement with the about 25 tourist attractions that converged to occupy this amazing suburb.

So while you're still days away from your thrilling trip, start bracing yourself now for all the destinations waiting for you in the suburb.

For four spooky and hair raising experiences all packed in a five storey establishment, there's Dracula's Haunted House for you that is located in Surfers Paradise Boulevard. Then if 2D and 3D are already too old as cinema technologies for you, then maybe it's time you try 7D Cinema off Trickett Street. And if you're seeking for a unique way in touring the Gold Coast, you can choose from either Aquackduck Tours in Orchid Avenue or Superduck Adventure Tours in Ferny Avenue.

Since you'll be in Surfers Paradise, you should never miss the opportunity of getting into the one of a kind adventure that can be found in Infinity Attraction located in Surfers Paradise Boulevard.

Are you looking for an adrenalin pumping water adventure? There's Australian Kayaking Adventures in River Drive. How about an easy going game where you can have fun with your family or buddies? King Tutt's Putt Putt off Surfers Paradise Boulevard and Ocean Avenue is what you're looking for.Then for the famous Ripley's Believe It Or Not!, it's right in this suburb's Cavill Avenue.

There's a lot more to discover once you're already in Surfers Paradise. Are you getting more excited now?

And while you're still planning, you may also want to get an accommodation near Surfers Paradise. With that, there's Surfers Tropique for you.

Visit http://surferstropique.etourism.net.au/ for booking details and more information about our Surfers Paradise holiday accommodation.

Image Source : King Tutt's Putt Putt