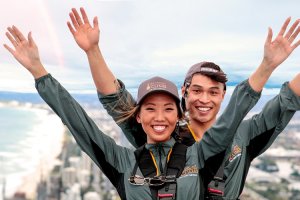 Give the perfect gift this Valentine's Day with an exciting break in Surfers Paradise! With our affordable Surfers Paradise holiday accommodation, here are just a few things you can do with the one you love in February.
Unwind on Surfers Paradise Beach
With Surfers Tropique, you'll be just moments away from Surfers Paradise Beach. Pack a picnic to enjoy on the sand, take a stroll along the ocean, and don't miss the beachfront markets on Wednesday, Friday and Sunday night.
Explore the Many Surfers Paradise Attractions
There are lots of fun attractions in Surfers Paradise, and there's nothing better than enjoying them with a partner. Enjoy the breathtaking view on the SkyPoint Observation Deck, clasp on to each other through Dracula's Haunted house, and bond over a game of tenpin bowling and more at Timezone.
Catch a Show Together at HOTA
Have a memorable night out together at HOTA, which hosts regular world-class entertainment from hilarious stand-up shows to famous names in music. You can be sure to find something worth seeing!
Visit the World-Class Surfers Paradise Bars
Head to Orchid Avenue near Paradise Centre for all the best bars in Surfers Paradise. Savour good food and a few cocktails while taking in the atmosphere - it's a fantastic way to spend an evening.
Enjoy All the Excitement of Sand Safari Arts Festival
There's all the more reason to be in Surfers Paradise this February as Sand Safari Arts Festival is all set to return. Giant sand sculptures, arts and crafts, live entertainment and lots more - this exciting annual event will have lots for you and your partner to see and do as you celebrate Valentine's Day!

Get the best price for your February getaway at Surfers Tropique by clicking here.