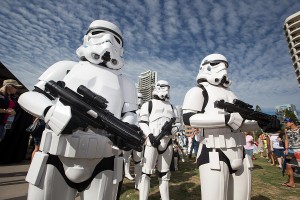 Soak up the festive atmosphere this long weekend by dressing up as your favourite fictional character! Brace yourselves for the much-awaited QPoW on Broadbeach, where you get to be whoever you want to be. Happening from 8 to 10 April 2016, 9 a.m. onwards, the fantastic Broadbeach offers locals and vacationers an opportunity to spend their long weekend embracing their Cosplay alteregos.

This is your time to host picnic moments with your family while enjoying some free outdoor movie screenings at Victoria Park. Also, fans of Leonardo, Michaelangelo, Donatello, and Raphael will surely freak out when these cool turtles swing by for some action during the Nickelodeon Teenage Mutant Ninja Turtle Live Shows, which will be held twice daily!

So rummage your closet and bring out your best costumes! Whether you want to channel your inner Bruce Wayne or Clark Kent, you will definitely have fun encountering other characters from other realms and universes on Surf Parade for the long weekend. And oh, don't forget to bring your cameras for some awesome photos with your family and new friends!

Now for a place to crash for the weekend ahead, check out Surfers Tropique. Our luxurious yet affordable units offer you a tranquil home that is a just a heartbeat away from all the fun. Get comfortable with our Surfers Paradise Holiday Accommodation, complimented by lifestyle-inspired facilities, such as: 24/7 WiFi access, car parking, barbecue area, and an outdoor swimming pool. Plus, you may approach our tour desk staff to get some awesome advice on the best attractions on our wide selection of tours available within the area.

As one of the busiest hubs on the Gold Coast, you can look forward to a colourful lineup of activities and events inspired by Oz's vibrant arts and cultural scene. Speaking of which, the much-awaited Supanova Pop Culture Expo and the Gold Coast Film Festival will be coinciding with QPow on Broadbeach, so make sure to check these out as well.

Create new memories at Surfers Paradise. Choose from Surfers Tropique's accomodation deals today by visiting http://surferstropique.etourism.net.au. It's fast and easy!
Image Source : QPOW on Broadbeach