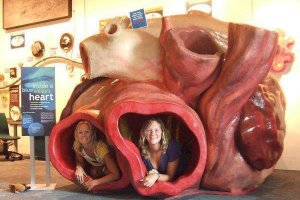 Everything can be found at Surfers Paradise on the Gold Coast from thrilling tourist attractions to cool cafes and lively bars. But for families just looking for an exciting and memorable day out, there's still lots to choose from. Find these 3 fantastic locations in Surfers Paradise that are perfect for families and couples!

At the Surfers Paradise Wax Museum grab the opportunity to snap a selfie with all your favourite celebrities and stars. You also have the opportunity to walk through the Chamber of Horrors, if you dare! The Wax Museum makes a perfect day out for couples and families where you can see all the many famous people throughout history as if you're seeing them in the flesh.

Ripley's Believe It or Not! Odditorium is the place to visit for everything weird and wonderful. Discover and witness things from all over the world that you are sure to have never seen before. This strange museum is home to over 400 exhibits and artefacts, where you can explore fun interactive games, mind-blowing illusions, and much more that will have you in disbelief! A perfect day out for families with kids!

At Timezone Surfers Paradise find yourself in the one of the largest indoor family entertainment centres in Australia! This 5000 square metre attraction offers endless interactive fun in a family-friendly environment that proves popular all throughout the year for tourists as well as locals. You'll find all the classic thrilling games at Timezone, including Laser Skirmish, Dodgems, Highway 66 bowling, mini golf, and lots more! Kids will love a day out at Timezone Surfers Paradise.

Our Surfers Paradise Holiday accommodation puts these great family attractions within walking distance! At Surfers Tropique we offer guests a comfortable stay in fully furnished holiday apartments in the most sought-after location on the Gold Coast. For families planning a getaway this Autumn, choose Surfers Paradise on the Gold Coast!

Book your Family Accommodation in Broadbeach with Surfers Tropique by just visiting http://surferstropique.etourism.net.au/

Image Source : Ripley's Believe It or Not!